Biographical sketch of Orville Sutherland Cox, continued
4 Over the Mountains
After leaving the Platte River, while traveling along the Sweet Water River, the company met General Kearney and his company of Battalion scouts with their illustrious prisoner, the great path-finder Freemont.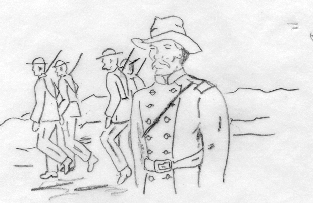 (When California was freed from Mexican rule, Freemont and his little band, who had helped to free it, were greatly rejoiced; and in their enthusiasm his followers proclaimed Freemont governor. General Kearney arrived and expected to be governor by right of his generalship. He was very angry and had Freemont arrested and sent to Washington.)
With Freemont's guards were Sylvester Hulet, Elvira's Uncle, and Amos Cox. They had traveled many weary months in an unknown, lonely country; and C. C. Rich's company were also travel weary. To thus meet relatives and friends so unexpectedly was a joy unspeakable to both parties.
Now the battalion men heard from their families left in Iowa, for the first time in more than a year. And tears of joy and sorrow were freely mingled. A daughter of Amos had died. Sylvester's wife had gone to New York where the Whitmer's and her father and brothers lived; so he decided to return to the Rocky Mountains with the pioneers, and Kearney gave him his discharge. Amos Cox continued with the prisoner to Fort Leavenworth, where he received his honorable discharge, and then went to his weary waiting family in Iowa.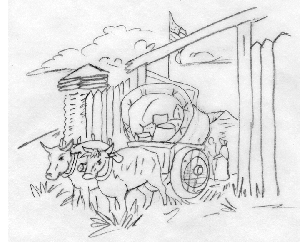 The pioneering company continued on westward. At Green River, near Bridger's Station, they met pioneers who had reached Great Salt Lake Valley and made a start toward a new home; and were now returning to the camps in Iowa, with more definite knowledge and instructions to impart to those who were to come to the mountains next year. They told Rich's company many things regarding the way that lay before them, and it was a great relief to know that they were nearing their destination.
From now on the mountains were on every side; frowning cliffs looked ready to fall on and crush the poor foot-sore travelers, for people raised on the plains are apt to have a shuddering of such sights. C. C. Rich's artillery company rolled into the valley of the Great Salt Lake. They were only two or three days behind Jedediah M. Grant's company of one hundred wagons.
Being expert in handling lumber, Cox was immediately sent into the canyon for logs. Houses must now be built. Among other timbers, he brought down a magnificent specimen of a pine for a "liberty Pole", which he assisted in raising on Pioneer Square. It was the first pole to carry the stars and stripes in the city. One had been raised on Ensign Peak before. They wintered in Salt Lake Valley. There another son, Orville M., was born November 29, 1847.
Very early in the spring of 1848 father moved from the Adobe Fort with his wife and three children and began farming in Sessionsville, now Bountiful.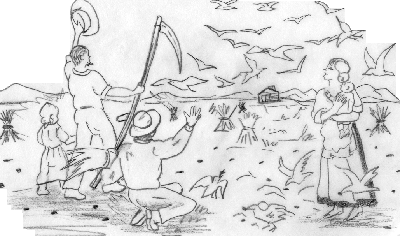 [Bountiful is considered the second community to be settled by Latter-day Saints in Utah. It was Perrigrine Sessions, a hardy member of the vanguard pioneer group, who set out three days after arriving in the Salt Lake Valley to explore the land northward.
He was looking for grassy areas where cattle could safely graze out of distance of gardens in the Salt Lake Valley. He and his family lived out of a wagon that first winter to become the first setlers. Other settlers soon followed.]
From Church News, July 29, 2006, p 10
Orville was the first bishop of the ward. There they had the famous experience with the crickets. He devised the broad paddles, as well as the oft mentioned methods, to try to exterminate them, and then came the gulls. He raised a crop in '48 and '49 there; also he dug the first well in Bountiful, and struck water so suddenly as to be almost drowned by it before he could be hauled up. In the fall of '49 he was called to go with "Father" Morley's company to colonize the valley of the Sanpitch.