Benjamin Vere Wilson
Benjamin Vere Wilsons Autobiography written in the 1970s


Beginnings

Sometime in the early part of the year 1915 my glorified celestial Father and Mother sent for me to come into their garden. Such beauty could not be surpassed anywhere. I learned that I was to leave on another mission. I was to leave with an escort for a beautiful planet called Terra. I would join a family in a place called Orderville, Utah. They told me I was very well acquainted with the members of this little family but in order to get an introduction, I would have to be born to them as an infant, and that I'd lose my memory, so to speak, and would forget everything about my Heavenly home. However, this was a necessary step in my progression and I could learn and gain a great deal by experience and if I would be faithful and obedient to those I had chosen to be my mortal parents, they would teach me all that I should do so that I may return to give my accounting and live with them forever.

Oh, the thrill that went through me, for at last my time had come to meet the Great Test. I could do it—I knew I could! At last I would receive a mortal body!

I kissed my wonderful parents and thanked them for all they had done for me, but my heart lay in my bosom like lead for I wondered if I could stand to be away from them so long. But I must go and so with a surge of courage I kissed them once more and began to make my plans. I saw them once more as we gathered at the Space Depot. Tears welled up in my eyes as I walked toward them to give them a final embrace. As my Father's firm hand gently fell upon my shoulder, I felt a warmth I shall never forget. I saw tears of great concern flow down my Mother's cheeks as the count-down began and the list of names was read off for those chosen to embark.

The journey was swift and straight and as in the twinkling of an eye I could see the beautiful green world I had been told about getting ever nearer. Then almost instantly One said to me: "We are assigned together for the period of your mortal life. I will be your Guardian Angel." Putting his arm around my shoulder and motioning to the door, he said: "We get off here." We left that beautiful shining chariot of light.

This was to be my home—Utah. Thoughts began pouring into my mind in a flood, but there was much to be done quickly to get my formal introduction to my earthly parents. I wanted to embrace them but soon found the meaning of the counsel I had been given that I would need to be born before we could communicate. Se we moved about learning more about my new world. I observed the preparation of the infant body which would be a house for my spirit to live in and enjoy. I learned that we would become one, and would look alike. So this was mortality!

I heard my mortal mother say one day to my father: "I feel the child leap within me." From then on my work was constant. I felt great concern in the task that lay before me, I must see that this creation be as perfect as possible, everything must grow in an orderly manner.

One warm summer day, June 13, I heard my mother say in a voice of persuasive excitement, "My child will be born today!"

Wow, this was going to be a big day and it truly was. For the first time I knew fatigue, for the first time I knew pain; and for the first time I knew anger for when someone picked me up by the heels and whapped me across the fanny, I yelled at them to stop. I guess I got the message across, for they quit and were a lot more gentle from then on.

It was really hard to understand the people in this new world. First I was spanked for something I did not understand, then I was mauled until I thought I'd die, but fortunately I was able to sleep through most of that and I was well fed, so I gained strength and decided it wasn't so bad after all. I soon found I had a lot of friends and acquaintances increased rapidly.

My mother and father were great people: conscientious, hard-working, and setting a good example. My mother had gone to school and trained to be a school teacher. Her name was Susan—a lover of life and a great contributor to it. My father, George Benjamin (called Ben) was a pioneer, farmer, frontiersman, and salesman--yes, salesman. One day he was selling women's dresses. He called on a girl by the name of Susan Cox and he not only sold her a dress, he sold himself as a husband and has been giving her dresses ever since.

My brother Carlyle, two years older than I, became a great playmate and friend. We competed together and each of us helped the other.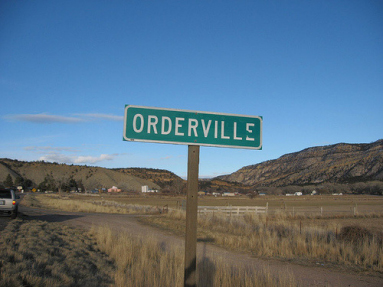 Orderville is a little town on Highway 89—the only town in Utah settled for the purpose of living the "United Order", because Brigham Young called a group of people to live the law of Consecration. They shared work, food, and money and some years later it was discontinued because of selfishness on the part of some of the people. So it was here as a child of people who had been willing to sacrifice and obey the word of the Lord and consecrate themselves and their possessions to the Lord, that I was sent to begin my mortal experience. What a rich heritage. What a royal family I was born into! I was born at the Hoyt home in the southern part of town. There is a grove of beautiful trees and nice shrubs on a gentle south slope. My Grandfather and grandmother Cox were wonderful people and I love the place of my birth even though we moved to Hurricane when I was only 6 weeks old.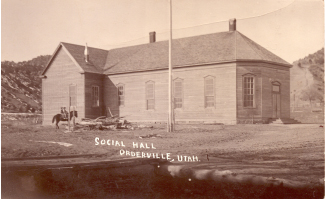 Dad had been a farmer and rancher, and drove freight wagons. He decided to move to Hurricane to make a permanent home for his growing family. There we lived in a tent, and then built part of the old home. Life was a hard struggle to make ends meet. Dad decided to go into the sheep business. He made arrangements with John J. Esplin to work for him herding sheep and uncle Leonard Cox also helped to influence Dad in this direction. He began to build up a little herd for himself as well as herding for others.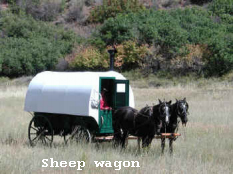 The years grow longer and the nights were lonely until Dad's desire to be with his family grew so strong that he began to think of other ways to earn a living.
However, a few things happened at the sheep camp when we visited him that I will always treasure. I was past two—maybe nearly three when I heard my Dad whistling. I puckered up my childish mouth in the same we he did and blew, and guess what? My very own whistle whistled. I was really proud of my accomplishment. I remember a beautiful place in the forest, where the fragrance of mint and blossoms mingled with the fresh mountain air and I knew I had been here before. I wondered if it was here we had disembarked from our voyage to earth. Though I was very young, I knew I had been there. I can see it yet with a vivid recollection in my mind's eye.
I remember how sad I was when I watched a sheep being butchered. As I observed its lifeless, blood-stained body still quivering on the ground, I wept for a long time. I was greatly troubled, and this affected me all my life. I can scarcely stand to kill anything.
I remember a fellow who worked with my father herding sheep. He was young, but he showed me many things. He taught me how to throw strait, and he cut sticks and helped me to build miniature fences and barns. I remember him well.
We planted trees, gardens, and vineyards. I remember holding the stakes while Dad drove them into the ground so that the grape vines would have support. I remember great peanut harvests, carrots, beets, sweet potatoes, and radishes. How wonderful the fresh vegetables out of our garden tasted!
Our dear mother was stricken with typhoid fever. Dad came to me and told me mother was very ill and we would have to go away to stay with a neighbor until she got better. Mina Hinton was a kind neighbor, but the days seemed to lengthen into weeks and the time dragged on so slowly before I could see my mother's beautiful face. We missed her so much. Finally, we were allowed to go home. What a change in my mother. Her lovely dark hair was very thin and full of gray. I did not know until I was older that she had visited beyond the veil and that her spirit was called back through the power of the priesthood. It was at this time that I learned what prayer was and how to use it and how to talk to my Heavenly Father when I was in need of help. I was given a strong testimony that I shall always cherish.
One time Carlyle and I were playing in the sand under a beautiful Chinese umbrella tree. It started to rain and the lightning and thunder were all around us. Mother came to the door to call us into the house, and as I looked up at her I saw a bold of lightning rip through the roof of the house and hit the ground in front of me. Mother fell to the floor and Carlyle and I ran to her side. The pale, ghostly look upon her face told me that death was near. Her mouth was locked open because of a dislocated jaw, and her eyes were rolled back. We dropped to our knees and began to pray harder than I have ever prayed, calling aloud to Heavenly Father to bless her and to save her. As we sobbed out our pleas to the Lord, her eyes began to focus, her jaw snapped shut and she was soon able to speak to us. We had witnessed a miracle and knew a deep gratitude that God had answered our prayers.
Another great lesson on prayer was learned the night our mother woke all of us children and got us up and gathered us around her to kneel in prayer, for she knew something was wrong with Dad, who had gone after a load of wood. We each said a prayer and mother prayed earnestly that Dad would return home to us. We felt that there was going to be a change in our lives.
The next day we saw the outfits come off the hill but someone else was driving Dad's. Anxiety filled our hearts as we helped lift our father down off the wagon, and his groans at every movement pierced our ears. He was very ill—badly hurt. We learned that while he was pulling a large tree over with the wagon and team hooked onto it, the wagon turned over on top of Dad, and though he was crushed and bruised badly, his life was spared. We learned the next day that Dad's half brother, Iddo, had died. We have often wondered if someone from Dad's family had to be called home for some special reason, and if our prayers for Dad had been the means of saving his life.
Dad had a chance to buy some land up on top of Smith's Mesa. We were all anxious to get into the act, and be together as a family, so the fist summer we all moved up on Smith's Mountain. The sand was so deep and hot we could hardly walk and our feet were blistered and bruised. We had to go barefoot in those days. Money was hard to come by.
Still being tender in years, many things happened to me that I could hardly understand; for instance, I was riding the grain wagon, playing in the newly threshed wheat, excited to feel the wheat dump down on my head. One of the harvest hands peered down into the wagon with a scowl on his face and in a gruff voice said: "Hey, kid, if you don't get out of there I am going to cut off your ears." I don't think I was ever so frightened before or since. I always hid whenever I saw him from then on. Demoralizing fear came over me whenever I heard his voice, and it was years before I was able to understand that he was only teasing.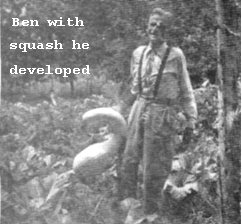 One morning we were getting ready for the tasks of the day when Dad said: "Son, go and get a melon for breakfast." So I toddled off and began looking for a nice melon that would be ripe. I decided the biggest would be the ripest, so I picked it and then I found I wasn't big enough for the job, for as I tried to pick it up, I dropped and it broke into pieces. As I looked down at what I had done, I was very upset. It was yellow, not red as I thought it should be, and I decided to taste it. I found it was the sweetest, best melon I had ever tasted. Just then Dad came over the hill and I thought: "Oh, oh, I've had it", but to my happy surprise he only said: "It looks like you need some help". So we ate that melon together and I thought he was the best Dad in the world. I got the tummy ache afterward, but I'd sure like to get my teeth into another golden core watermelon that tasted half as good as that one.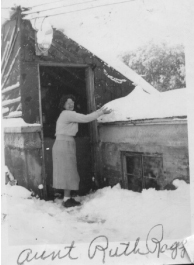 We had to carry our water a long way, so one morning dad said: "Vere, you and Ruth get your buckets and come with me." Mine was a gallon honey bucket and Ruth's was a five pound lard bucket. We willingly tagged along behind Dad. Ruth and I stopped to play, but soon I went on up the trail. But Ruth did not follow me. Sometime later, we realized that Ruth was not in camp. We all called as loud as we could, but no Ruth. We were frantic. Dad ran down the trail and then decided to go down into the sand wash and follow along to see where she might have crossed the wash. He found her tracks and they were headed strait to the cliff. We ran as fast as we could and called through the trees. We got to the cliff, dreading the thing we were afraid had happened. Again we called loudly and heard a faint answer down in the bottom of the canyon. We found a little pathway down the side and hurried down calling to her to stay where she was. She had found a deer trail and followed it down the side of the canyon. She had gone about three miles. She was about three and said: "I was going to find Dad."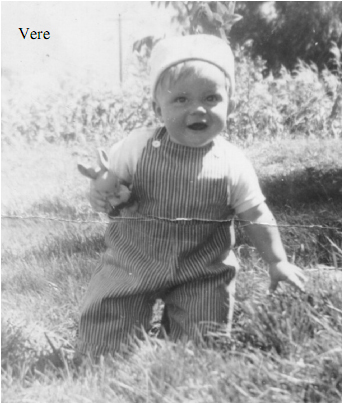 Another time, we stopped at the Virgin River on the way home and I saw a piece of cloth floating down the river and pointed it out to Dad. He jumped out of the wagon and ran right out into the river and picked up my little sister who was floating face down in the water. She had been asleep in the back of the Wagon and had awakened and fallen unnoticed into the water. What a narrow escape for Ruth!
One time as we were traveling from the mountain, Dad found that his bull whip had lost out of the wagon, so he left me with the team while he returned to search for it. I waited and waited, and after a long time, I decided my Dad was lost, so I thought I would go find him. I followed up the road. On another trip up to Smith's we camped for the night at a spring half way up the hill. I could hear the lonely howl of the coyotes and the wind sighing through the trees. It made me nervous and lonely. The next morning Dad's new hat was missing. We looked everywhere for it, but to no avail. On our return trip down the hill, I was walking, and right at the side of the road was Dad's new hat. The wind had blown it back by the road.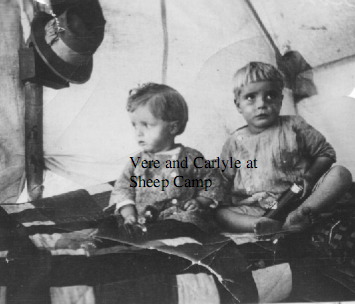 Time passed and we had so many discouraging experiences and so much hard work without much remuneration, we decided it was too far to haul the crops to market, so we sold the land and moved back to Hurricane where we began getting ready for my first year in school.
---